Ender Gallery is an exhibition space and artist residency that exists inside the game Minecraft.
About the residency
Partnering with the MacKenzie Art Gallery and curated by Sarah Friend, Cat Bluemke, and Jonathan Carroll, Ender Gallery is excited to host our first run of programming! We have four residencies planned for 2021, featuring Cat Haines, Simon M. Benedict, Huidi Xiang, and Travess Smalley.
Current Exhibition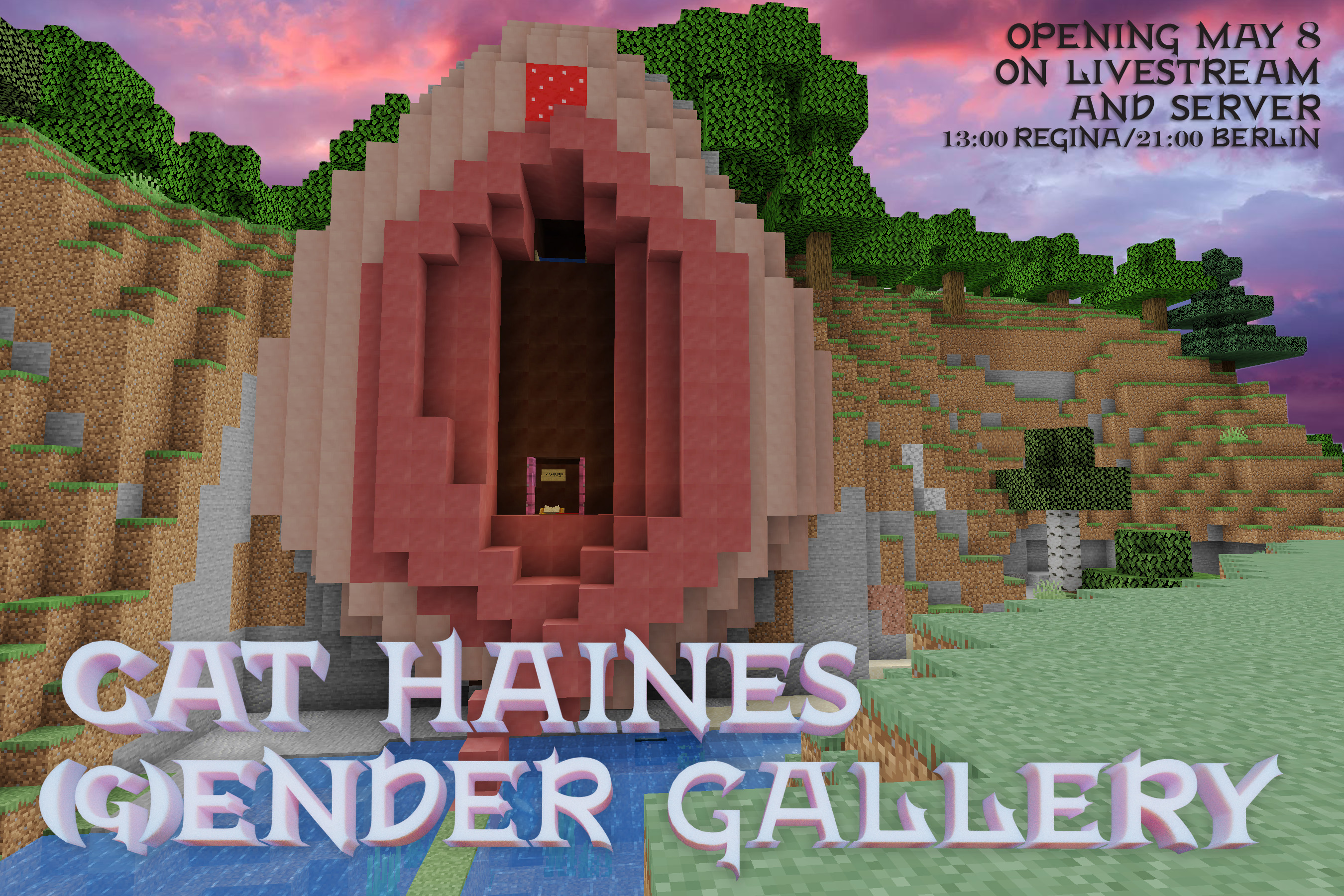 (g)Ender Gallery is a solo exhibition of the work of Cat Haines, developed during her residency on the Ender Gallery Minecraft server. Combining photography, poetry, and monumental Minecraft builds, (g)Ender Gallery explores the platform's potential for queer and trans intimacies. The exhibition is a playful transfeminist intervention into yonic art canon that uses worldbuilding as a means of trans agency. The body of work features a colossal reconstruction of the artist's surgically-constructed vagina that contains a gallery of text and images that reflect upon moments of her transition. The project investigates the affordances of the Minecraft platform to reject a cisgender reading of transition, through recentering narratives of trans joy.
Current Resident
Simon M. Benedict is an artist and translator of Franco-Québécois and Abenaki descent working with video, sound, still images, and text. He combines audiovisual material from various archives to examine how fictional and historical narratives inform and stem from our understanding of unmediated reality.
Recently, his video work has focused on depictions of Indigenous people in media made by and intended for non-Indigenous people. After spending much time and energy researching these harmful portrayals, he is relieved and excited to be doing something more positive and potentially healing within the context of Ender Gallery. During his residency time, Simon will be creating an environment inspired by "Kinaw8la – She Takes Care of You", a booklet co-authored by Donna O'Bomsawin and Evelyne Benedict about native and non-native medicinal plants currently found on Odanak Abenaki territory.
Simon lives and works in what is now known as Toronto, the traditional territory of the Mississaugas of the Credit, the Anishinaabe, the Haudenosaunee, and the Wendat. He hopes that this residency project will allow him to reflect on the spirit of the territory's Dish with One Spoon treaty, which is based in the collective care and sharing of land and resources, and extends to all people living here today.
Upcoming Events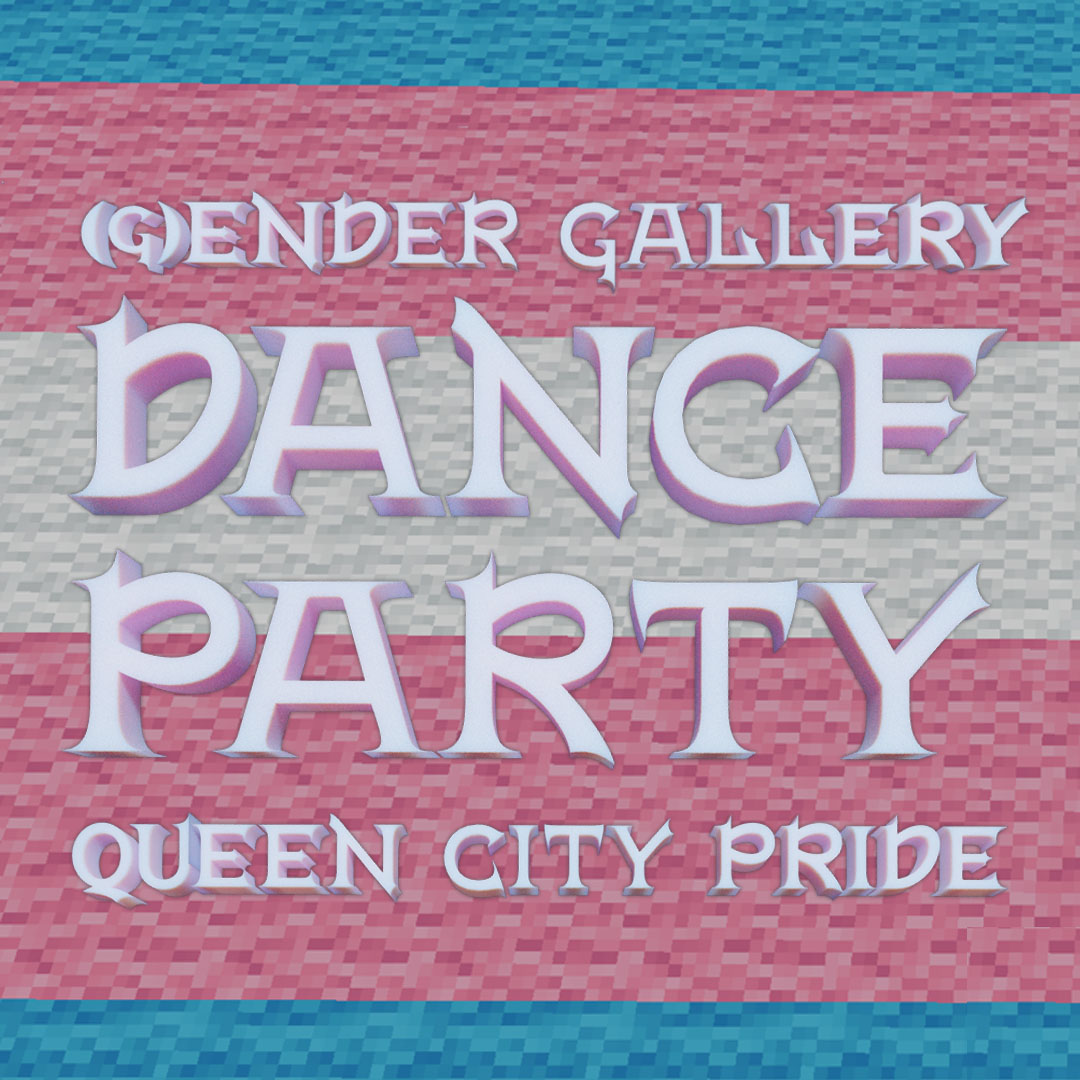 Pack the Pussy : June 09 7:00-10:00 pm CST (8:00-11:00 pm EST, 2:00-5:00 am CEST)
Join us, Cat Haines, the Mackenzie Art Gallery, and Queen City Pride this Thursday, June 10 from 7PM-9PM CST (Regina time) for Pack the Pussy, a virtual dance party inside the (g)Ender Gallery Exhibition!
To attend the live dance party in Minecraft, you will need a licensed account for Minecraft Java edition. Check here for how to join If you would like to attend in-game but don't have Minecraft Java, contact cbluemke@mackenzie.art. As always, we will also livestream through the MacKenzie's Facebook, YouTube, and Twitch streams!
Music by:
Ariana Giroux is your local angry trans woman out there making waves and throwing bricks! Working out of a home studio on Treaty 4 Territory, Ariana works every day to carve out a better world for people of many intersections. She uses her music to celebrate queerness and provide catharsis for those members of the 2SLGBTQIA+ community who need it. Her music spans topics from "its rad to be queer" to describing how it feels to be victimized by complex transphobia and queerphobia. Working with a dizzying array of hardware synthesizers and samplers, her work is almost entirely improvisational house and downbeat electronica meant to groove and find yourself in. bandcamp
Using spectral analysis, various forms of synthesis, computer assisted composition techniques, and a penchant for chaos, Mutable Body constructs hyper-real soundscapes. These otherworldly planes exist as bridges between the realms of acousmatic perception, simulation, and parallel realities. bandcamp
Partners

Friends